SAND VOLLEYBALL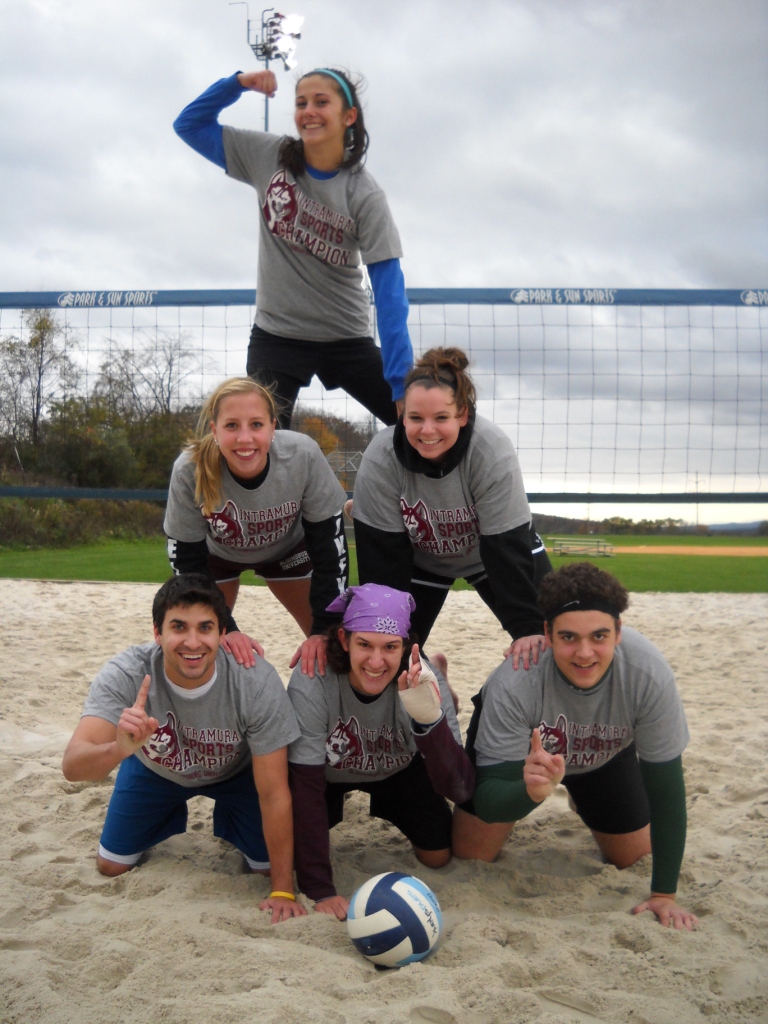 2012 Champions "Pup and Suds"
Registration Info:
Sign up your team by registering with IMleagues.
Click "Here" for directions on how to register.

Co-Ed leagues will be available

Competitive and Recreational leagues will be available

Select the days (Mon/Wed or Tue/Thur) you want to play each week. Games may also be played on Sunday's depending on the number of teams that register.

Game times are between 5:00-10:00pm. Scheduled on the hour for an hour.

QUIZES: Captains must pass the Captain's Quiz online before they can register a team.
Players must pass the Player's Quiz before they can join a team an participate.

$20 forfeit fee must be paid between 1-5pm on Wed. September 10th, 2014 in the Intramural office to be officially registered to play. NO FEE, NO PLAY.

League Info:
4 v. 4.CoEd teams consist of 4 players with no more than two (2) men and no less than two (2) women alternating in the rotation on the court. Coed teams may also start with 3 players: which 2 of must be women. Any additional players to bring the team up to 4 can join a game in progress. There must be at least 2 women on the court at all times, no matter the number of players.

7-8 games played over 4 weeks. Single elimination playoff will follow regular season. Number of games may change depending on the number of teams registered.
Play begins September 17th, 2012 for the Fall Season,


All games will be played on the sand volleyball court located on upper campus on the Rec. Fields.

Team/Player Info:

Club sport members are eligible for competition, but are limited to the amount of players per team, per sport.

CLUB Volleyball Players: Team club members are limited in IM volleyball to 3 on the court at a time.  If there are 3 members there MUST be at least one female and one male (i.e. 2 males and 1 female or 2 females and 1 male).  If there are 2 members they can be of the same gender. A club sport member is any individual participating in club sport contests, attending regular practice, or whose name appears on the official squad list. Once considered a club sport member, you are one for the entire school year unless you have been dropped from the squad list and are no longer playing or practicing with the team.
All club members must be identified, before the start of the game.  Teams violating eligibility rules will be ineligible for playoffs.

Any undergraduate or graduate BU student and faculty/staff with a membership to the SRC are eligible to play.

All players must bring their BU ID to play every week. NO CARD, NO PLAY.

IM Rules:
Check out the IM General Rules
Check out Sand Volleyball Rules